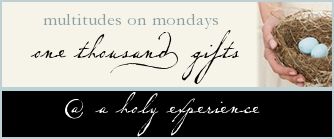 251. That Garrett really doesn't seem to mind when his brother and sister do this to him
252. I have awesome friends willing to share their experience when they have been there and done that (like cloth diapering). Thank you to
Amanda
for a hands on demonstration and advice.
253. Water balloons
254. Having a very special houseguest and an extra set of hands this weekend. Thanks
Lindsey
!
255. McDonalds with five children was pretty fun instead of just survivable.
256. My neice graduating kindergarten.
257. My 2.5 year old thinks she is still a baby and it is oh so cute!
258. Watching my two oldest kids (4 and 2.5) playing on the computer together. Braedon waits for Kaley to make a choice, moves the mouse for her and then lets her push the button.
259. 4yo and 2.5yo actually ate some eggs and sausage today.
260. Despite falling pretty hard, twice in the same day, neither of them were hurt
261. Braedon's imagination and storytelling is getting funnier and funnier (espcially when The Cat in the Hat put him in timeout)
262. Quite house
263. But on the same note as #262 I like it loud sometimes too
264. Time spent with my neices
265. How helpful my children are around the house (sometimes)
266. That I can surely dismiss any "end of the world" claims because: "But about that day or hour ,no one knows not the angels in heaven nor the son. Only the father." Matthew 24:36
267. Open mouth kisses from my adorable, all-boy, chunky-monkey, 9month old
268. Most of the time stress in our house can be reduced by someone making a joke
269. Mothers who share their heart and experience so openly like all of the blogs I follow and also Kristen Welch's
Don't Make Me Come Up There
devotional.
270. So many people in our church fostering and adopting...it's so awesome!
271. A certificate to a bouncy place as a thank you from the kid's dentist office
272. My past has been redeemed by my Almighty God
273. Patience from a person who requested a book and I accidentally mailed it to the wrong person (mommy brain!)
274. First trip to the farmer's market but now I wish it was a growers only market
275. Haircut at a fabulous place where a cut includes parriffin wax for hands plus a scalp, neck and back massage after shampooing and a 2 week guarantee on the cut