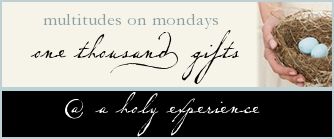 276. An awesome reminder of all the work God has done and continues to do in our family!
277. "Greater love has no one than this, that one lay down his life for his friends." John 15:13
278. Selfless sacrifices from military personnel who protect our freedom!
279. A chance to visit a small lake in a section of our neighborhood that we don't go to very often.
280. Family pictures at location #279
281. Our wonderful
photographers
282. Our first trip to the pool.
283. Tragedy avoided during #282, Praise God that my honey was standing right there to rescue our 4yo niece.
284. Flotation devices
285. Every moment my kids play nice together.
286. Cooking breakfast while listening to the laughter of the kids playing with their daddy on this special holiday.
287. Celebrating our freedom and those who protect it.
288. All of the sweet children that I so enjoy playing with and getting to know during preschool volunteering at church.
289. My daughter's laugh especially when she laughs so hard she can barely breathe.
290. Sweet alone time sitting on the back deck with my hubby.
291. Sometimes my kids are easily entertained and I can just sit back and watch them be silly.
292. Braedon's red hair that looks like a shiny penny.
293. Water.
294. The first time in a long time...friends inviting us to a party on a holiday.
295. Family time that involved a lesson and activity about secret church.
296. Home worship time with the family.
297. All of my kids are good sleepers now (for the most part)...yay!
298. God continuing to work on our hearts and mature us as a couple and as parents.
299. Watching Garrett discover new things.
300. My quirky 4yo who makes me laugh so hard my cheeks hurt sometimes.