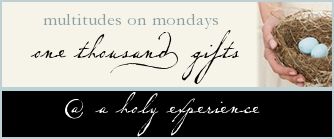 301. Parent commissioning at our church that just happened to fall on Garrett's 10 month birthday
302.
This family

303. Every moment of life
304. Wonderful friends to photograph special occasions
305. Very productive meetings with my Playcation team, so thankful for each of them
306. Bubble wands
307. Garrett playing peak-a-boo
308. Watching my baby sleep in my friend
Amanda
's arms (he barely does that with me)
309. "Whoever dwells in the shelter of the Most High will rest in the shadow of the Almighty" Psalms 91:1
310. The blessing of a long standing membership in the same Sunday school class with wonderful teaching but will be changing soon :-(
311. The blessing of a strong bible teaching church to attend
312. Freedom to worship the Lord, Jesus Christ
313. God's love and relationship with me parallels my love and relationship with my kids
314. The opportunity to guest post on
INFO for Families blog
315. Watching the kids laugh and chase bubbles
316. Spinbrushes (why weren't we using them before)
317. That my kids constantly want to brush their teeth now (b/c of #316)
318. People willing to share advice openly
319. Heaven
320. Our God is greater, our God is stronger, God you are higher than any other...
321. The ministry of
NILMDTS
, which my friends
Ken
&
Jamie
volunteer for. I can't imagine the God-given strength it has to take to not break down emotionally while doing this service!
322. The blow up baby pool we have even though my two bigger kids are much too big for it but boy do the three of them find so much joy splashing around in it
323. Tomato plants
324. Watching Braedon's coloring and writing skills improve as he literally blows through the Kumon workbooks I got for him.
325. "And the peace of God, which transcends all understanding, will guard your hearts and your minds in Christ Jesus" Philippians 4:7