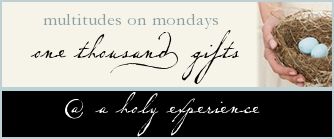 A little late this week. Better late than never! Here I go, continuing to count my gifts:
176. He is risen, He is risen indeed!
177. Seven wonderful years with the love of my life and the man of my dreams
178. Wonderful opportunity to wine and dine with my favorite person while celebrating #177
179. Learning to cook from scratch (some)
180. A chef for a husband but also supports me in the kitchen
181. Eating healthier (Braedon actually ate all the colors of the rainbow today)
182. The gentle guidance God gives me to get my priorities back in line
183. A few successful (full) night's of sleep by my 8.5 month old
184. The ease of research with so much information available
185. The wonderful people who babysit our children
186. Free TV waves and the antennas that pick them up
187. A husband who looks for ways to cut costs (even involving the TV)
188. Serving my family
189. Exercise
190. Water
191. Goodwill and consignment sales
192. Shopping with my hubby to learn what styles he likes to see me in
193. Hubby's patience (in #192)
194. Naps with Braedon
195. God fulfills every need
196. A new sense of the God-given authority I have over my children
197. Implementing #196 with grace
198. Braedon bringing me an empty liter water bottle and a nerf ball asking to play baseball...innovative 4 year old!
199. The plastic bat and ball we got him because of #198 and that he can actually hit some
200. Kaley's words (ockle=tickle, yeyo=yellow)