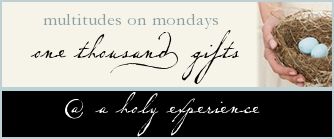 126. Making memories with my neices
127. Children's screaming parties (as long as they take place in the bedroom with the door closed)
128. The blessing of being able to provide some positivity in an otherwise negative situation
129. Pledges for the
Walk for Life
that I am participating in
130. That my husband is so great about giving me a little bit of time away
131. An excited hug from a very special young lady at church today who was blessed by a mission trip to Dominican Republic last week
132. Peace from God when I focus on the things He wants me to do instead of the things I want to do
133. Coconut shrimp...yummy!
134. Three girls (6, 4, and 2) surrounding me and reading
Big Thoughts for Little People
135. Free crafts on weekends at local stores
136. Dollar theater
137. We survived number 136 with five children 6yo and under
138. My husband and I make such a good team
139. Jesus is the light of the world
140. Watching the kids play at the playground
141. We are blessed to own a vehicle that eight passengers can sit in (we had seven in it this weekend)
142. Making fun and silly memories with friends and family
143. Dinner and catching up with friends we haven't seen in a while
144. My husband and I are meeting our goal of having more alone time
145. We are also meeting our goal of accomplishing tasks that just seem to never get done
146. We can still see in our kitchen despite the light being broken
147. A relaxed schedule and free time during Spring Break
148. Sunny and warm weather
149. Tea party at MOPS last week...too fun!
150. When God so obviously answers prayers and floods me with resources to encourage, inspire, and guide me