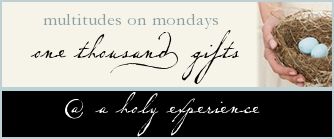 51. Spontaneous baptisms
52. All the souls who publicly professed their following of Jesus Christ through #51 at church yesterday
53. Personal phone call from a very important person
54. Family naptime
55. Warm weather warm enough to enjoy outside but not scorching hot
56. Visiting a new playground with my brother and my two neices
57. Our Sunday School teacher
58. New Zealand
59. Crisis pregnancy centers
60. Grocery stores
61. Much needed date night with my honey
62. Family fun at touch a truck
63.
My friend's website
for great ideas of family fun things to do
64. Blog giveaways
65. That I won my first #64 recently (blog post coming soon)
66. Discussing with husband and implementing changes in our home and family routines
67. That my awesome husband did lots of housecleaning this weekend
68. Shopping sales
69. Checklists
70. Spring
71. Changing seasons
72. That caterpillars turn into butterflies, how amazing is that!
73. Free preschool resources
74. Excitability of my children
75. Corporate worship