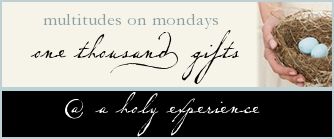 76. Being able to stay home with my kids
77. My husband and I having the same heart for spiritual training our children
78. Kaley's pigtails...so cute!
79. Being able to dance
80.
Chazown
81.
Family Time training
82. Our family's theme song
Give Me Your Eyes
by Brandon Heath
83. Our children's attentiveness during our first family time session...big success 84. Jesus is our shephard. When we are lost he comes to find us.
85. Recording family videos and then watching them with the kids
86. The feelings that come with the season's changing
87. Cuddling with my babies
88. Crisis pregnancy centers
89. Life
90. God being in control of
everything
91. Perfect example of life to follow, Jesus Christ
92. Forgiving God
93. Garrett's laughter
94. Baby formula (as much as I love nursing)
95. Sermons that speak directly to me
96. Braedon and Kaley surrounding Garrett talking and playing with him
97. Kids worship videos...(especially Big House)
98. Hearing my kids sing
99. Hearing my kids pray
100.Hearing my kids recite bible verses