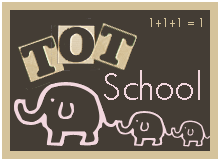 I want to start by telling a little bit of my story. When my first child was born, I continued to work full-time outside the home. When my second child was born I cut back to part-time outside the home. Now, we have fully transitioned our family to me being a full-time stay at home mom. When I still worked full-time, we were in survival mode. There wasn't much leeway for intentional time...it was the basic necessities just to get through the week (feeding, bathing, a little playing, sleeping, gearing up to do it all over the next day). We praise God all the time that He changed the direction of our lives and things move at a much slower pace now. There is plenty of room for intentional time now. But, guess what? Mommy doesn't even know where to start really! So, I can use all of the help I can get. I decided to jump on board the Tot School train as a way to be more intentional with my time with my children. I have learned a lot from God about living an intentional life in every aspect of life. So, when I read Carisa's FAQ and saw words like purposeful and intentional I was ready to give it a try. I decided to blog about it and officially join Tot School as a way to hold myself accountable. After the first few days of paying a bit more attention to what we do I realized that we do already do Tot School and perhaps I am not as lost as I thought I was. But, I do really like (and thrive on) structure, so I am jumping in.
Here are snipits of our first Tot School week:
We play with riding toys a lot at our house
Kaley's favorite is the firetruck
Braedon's favorite is the tricycle


We did manage to have some table time. This turned out more like me throwing things against the wall to see what would stick. Kaley threw almost everything back at me except for the dot markers, which she proceeded to play with for about 30 minutes.

Braedon threw almost everything back at me except the paint brush matching game and the dot markers.


We also made shapes and letters out of the little paint brushes...actually he told me what shapes and letters to make and I made them while he watched.


Braedon also picked up the word matching game for the letter Dd bible verse from Totally Tots. He only played it once so I am going to leave it out for next week also.
We also had a little floortime. While Kaley and I were playing with the little people bus


Braedon was playing his famous set on the guitar for us:
Twinkle Twinkle Little Star
The Itsy Bitsy Spider
Jesus Loves Me
This Little Light of Mine


I put together the Days of the Week and the Weather Chart from Confessions of a Homseschooler, which Braedon started out the week absolutely LOVING and then by Wednesday wanted nothing to do with. I have been just asking him if he wants to do it and if he says no then I am not pushing it.

We had some outside time. I saw an ice cube transfer game on a parenting show but can't remember which one. Fill up a big bowl with ice water and transfer the ice cubes with a ladle into an empty bowl. Repeat as many times as desired. The fun wore off before the ice cubes were gone so we practiced sculpting a Dd out of the ice cubes.


Mommy's version:


Braedon's version:


We also harvested our apple mint that we have a ton of. Daddy cuts the stems off and we all four sit down and pull the leaves off of the stems.

This clown hat made for some lively teaching on sharing and taking turns.

They learned a little about teamwork by helping mommy unload the dishwasher. Kaley would carry a peice or two of silverware across the kitchen to Braedon who was eagerly waiting by the silverware drawer to put them away.
They also love to jump around and dance to whatever music is playing either from a toy or from the radio.


Mom's Favorite:
We had so much time this week where the kids were not getting along that my favorites turned out to be the times they were getting along the best.
Playing in a laundry basket together:


Rocking in a chair together


I can't resist one of my favorites being my big girl's smile as she is chasing my camera!


I hope you enjoyed reading about our week!