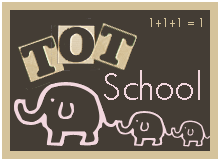 It was a pretty low key week. I am still trying to find time to organize my ideas, search for new ideas, and actually implement them. On the fly has been getting us by but it is not making for many new and different activities.
Braedon loves to stick stickers. Last week he stuck circle stickers on the do a dot letter pages. This week, I used the play do mats from Homeschool Creations and gave him square stickers.



Kaley was playing with the fridge farm but then was very interested in what Braedon was doing.



So, I gave her a play do mat and some square stickers too.


Since both my kids love sticking stickers, I created a chart called I Ate My Vegetables that they get to stick a sticker on whenever they eat their vegetables. We have only been using it for two days but so far it is working. I saw the idea at Tots and Me.
They both did a little bit of painting. I couldn't resist the shot of Kaley with paint all over her face.



They played with rice on a cookie sheet though it didn't stay on the cookie sheet for very long. The idea was for Braedon to draw letters in it. He drew a couple of letters and then just started playing in it. Then, Braedon and Kaley worked together to transfer it into a different container and then back again. They had lots of fun and it kept them busy for about 30 minutes or a little more.


We also tried this neat feed the shark counting game I saw at Along The Way. My shark didn't turn out quite as cute as hers and Braedon said it looked like a frog. Oh well. We used real goldfish so after a few minutes of daddy playing the game with them it turned into feed Braedon and Kaley instead of the feed the shark.


Mama's Favorite:
"Mama, look at the pretty flower" and then I asked him to sit down next to it for a picture.


Tired and cranky baby didn't get her way. Her pigtails are even drooping. Poor thing!


See what other moms are doing with their tots at: Tot School