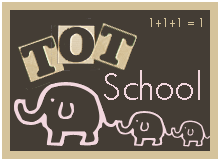 We didn't do a ton "school" related this week. I am struggling trying to keep all of the ideas organized and then actually following through with them. I also am struggling with balance between structure and non-structure. So, it is a work in progress. We did focus on the letter Pp, mostly.
-Braedon did the
cut and paste activity for Pp
from
Homeschool Creations
.
-Braedon and Kaley both played with do a dot markers.
-We again completed our weather chart and days of the week chart everyday this week. That has become a normal in our morning routine and the kids love it.
-Braedon worked more on recognizing and spelling his name.
Here are a few more of our highlights from the week:
Our painting experiences up until now have consisted of Braedon mixing up all the colors with both of his hands and being ready to go wash them about 2 minutes into it. I have been unsuccessful at getting him to use a brush until this week. I think he has finally figured out that if he uses a brush then he won't get his hands all messy. So, now painting is his favorite thing to do and it takes up a little more time than just 2 or 3 minutes. I gave him a dot marker page, printed from
Confessions Of A Homeschooler
, and showed him how to paint inside the circles.

It was very cloudy and rainy here on Friday and I ran across this super-neat cloud activity at No Time for Flash Cards and had to give it a try.


After we were finished using the cotton balls, Braedon wanted to use his paintbrush.


For the most part, Kaley just wanted to sit in a big chair at the table and watch her brother. When she saw I had the camera out she started looking at me smiling like she was ready to get her picture taken.


She did try a little transferring activity with cotton balls but ended up just batting them around and watching them scatter to the floor.


I also did the shaving cream in a bag for both Kaley and Braedon. I originally saw this at Confessions of a Homeschooler but have seen it elsewhere in blogland too just can't remember where all. Both of them really just liked squeezing it and pressing hand prints into it.


Mama's Favorite:
Lately, my favorite thing to do each afternoon is to lay down on the couch with Braedon and read books. After we are finished reading, we snuggle up and take a nap together. This started as simply a way for me to get off of my feet in the middle of the day because of placenta previa but has been such a treat to cuddle with Braedon since he is mostly all go, no stop.

See what other moms are doing with their tots at Tot School.